Yes, my exams have ended. Didn't do quite shabby, not bad in terms of results. But more importantly...FIFA. Yes, we all know EA are the massive bosses of this soccer franchise and we also know they are a bunch of money grubbers that refuse to fix their servers and glitches, not to mention the infamous impact engine.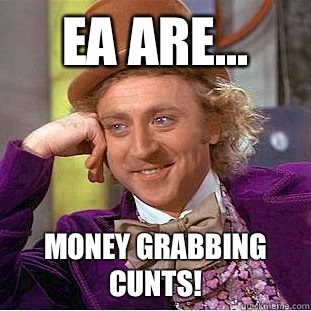 Wise words from Wonka.
and...
Damn, this should go in the Karmasutra.
Well, I'll still be playing Fifa 12, haven't bought Fifa 13 as of now, I'm wondering how desperate EA are to make some big bucks every year a new soccer game is released. On the bright side, if the world ends by this october, it would probably be worth it for those Fifa 13 buyers. Just a question, if you do know a place that sells Fifa 13 for a cheap price, kindly tell me via the comments, but if you don't then its okay. So EA...ready for Fifa 8000, where the ball can float in the air for long periods of time and you can score telepathically. Woah.
-Lincoln.