Admit it, those of you iPhone and Android users just can't stop playing Scramble. I mean, it's just a word game with points to it but who can't deny that challenging your Facebook friends for how many words they can find isn't fun? This awesome app created by Zynga has been one of the most downloaded apps, mainly due to the app occupying little memory and being so fun that playing for hours doesn't seem enough. Even I myself am addicted to this word game.
The walking dictionary of English vocabulary.
And most importantly...the most asked question is: 'How do you OWN in Scramble?'
It boils down to a few things.
1.
You need bloody fast fingers.
Apparently, there is only two minutes for you to get as many words as possible. Not having fast fingers is like not having a dick for sex.
Japanese girl strikes.
The only way to do so is to get used to the game by practicing it many times.
2.
Go for the words with more points.
Thankfully, Zynga has made the game such a way that there are letters that are worth more than the others, in fact much MUCH more and they are highlighted in red or blue. Here's an example: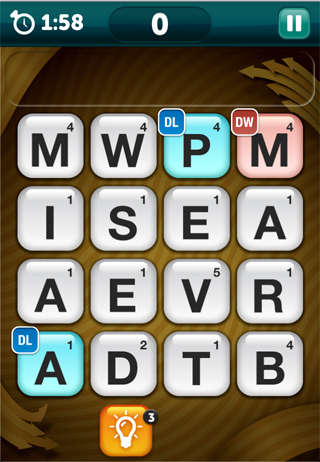 As you can see, the blue and red words give you higher points or bonuses from words.
Try to form more words using the red or blue letters, but don't forget that there are other letters that you can use at your disposal. And lastly..
3.
Know the permutations and form long words.
Albert Einstein would have owned in this game, because the word 'tea' can have four different types of permutations, just by relying on 3 words. 'Tea, eat, ate and tae' are all excepted in Scramble and the main point of this is not to sift out words that are obvious, but try to find words by changing the order of how the letters go. It is also good to learn some unknown words that exist in the English Dictionary via Scramble, so you will have more experience in later games. If you're advanced enough, you can try forming words that are more than five or six letters long, giving you lots of points on just a word. That sir, is boss.
In time to come, you'll be a boss in Scramble.
Happy Scrambling.
-Lincoln
*whips out iPad and plays the shit out of Scramble*